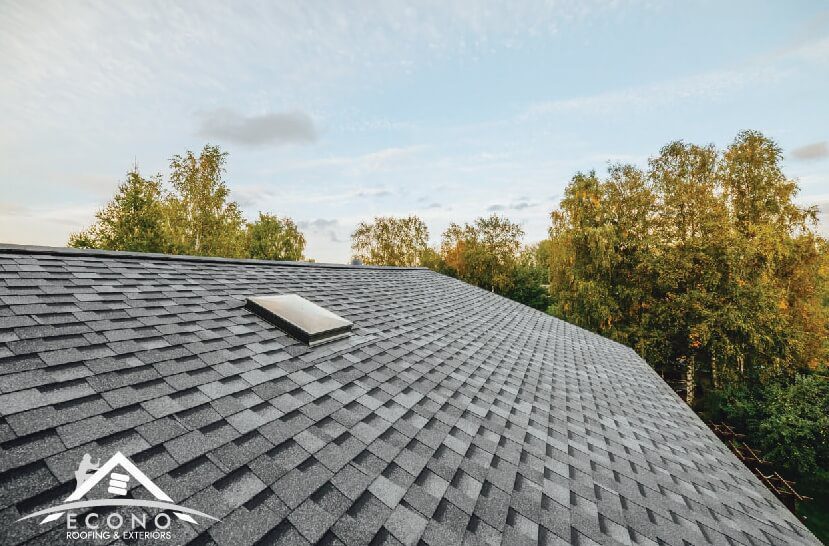 Econo Roofing is part of the  Econo Construction Group that services Calgary and its greater area. At Econo, we specialize in providing Calgarians with affordable and flawless roof and exterior services. Such includes three different roofing types – asphalt, metal and Wakefield bridge – and different exterior types – including soffit, facia eavestroughs, CanExel, Hardie board siding, stone veneer siding and vinyl siding – that make up Econo Roofing's services.
What Roofing Types Exist?
As previously mentioned, the three types of  services at Econo Roofing are asphalt, metal and Wakefield bridge. All three of these options are unique in their own ways and offer various levels of protection and durability dependent on what the customer is looking for. 
 Asphalt roofs are made up of asphalt shingles and comes in a wide variety of colors including navy, charcoal, burgundy, off-white and cedar amongst others. This roof type is designed to last and its expected longevity is between 20-50 years depending on the type of asphalt you decide to go with. Asphalt is one of the easiest installation processes and the often can be completed within a day.
Metal roofs are yet another option offered at Econo and this style is the longest lasting material on the market. Metal roofing is the most durable and weather resistant material; the metal panels encourage the fall of snow in the winters to ensure your roof is clean. This type consists of two different locking systems, either double lock or single lock. Single lock is typically used in more mild climates while double lock is used when the weather will impact the longevity of the roof. 
Lastly, there is Wakefield Bridge steel shingles which is essentially the perfect mix between asphalt and metal roofing. This product gives the look of an asphalt roof while offering the durability and longevity of metal roof. Wakefield Bridge shingles come in 
16 color variations
 which can be selected and viewed at the bottom of the roofing services page. 
Hopefully this gave you a better understanding of the roof types that are offered at Econo Roofing and Exteriors. For more information about our roofing and exterior services, give Econo Roofing a call at 825 – 540 – 7254.